ATTENTION 2019/2020 BRIDES!!
 This is a masterful 136 Page Questions and Answers Wedding Planner. It will save you a lot of time and errors.
Over 250 specific wedding questions answered!
"What I want you to know is that I designed my 136 page

(downloadable

) Master Wedding Planning Guide to be the easiest to follow system for learning how to plan a wedding available. It is jam-packed with information, including step-by-step EVERYTHING that needs to be planned, booked and organized, the questions that you must ask to make sure that you get what YOU want and avoid being taken advantage of; timelines, budgets, over 250 of your questions answered, over 150 cost saving tips covering every aspect of your wedding, seating plans, bride/groom photos, questions to ask Bands, Djs, photographers, and much more…
…My Master Wedding Planning Guide will teach you how to plan your wedding like a professional wedding planner, so you can organize everything and be as prepared as you can be, while still having that once in a lifetime wedding you have always dreamed about – this is truly cutting-edge material!
Thousands of people worldwide, just like you, have used my unique

136

Page

Master Wedding Planning Guide to plan an awesome and awe-inspiring wedding, while having piles of fun in the process. Will you be next?"–– By Julie White
Author of The Master Wedding Planning Guid
Now you can make all the right decisions regarding your wedding and have no regrets throughout the entire planning process.
"At first I thought this book was going to be overwhelming with 250 questions and answers…Boy! Was I wrong! So easy to follow. There are so many advantages of having this Ebook. But, the best one is that it actually helped cement a bond with me, my parents and future in-laws. That's right! Thanks to your book we were all able to stay on the same planning path and stayed fitly united in the same mind and same line of thought.Thank you, thank you, thank you! This Master Wedding Planner really helped to diffuse any disagreements that could have surfaced. It's a Time-saver, life-saver and yes, a LOVE saver"
—Aurora Stevens—Los Angeles Ca.
"I wasn't sure about hiring an actual Wedding Planner or ordering this book. But, I thought what's $37 compared to a $2100 human Wedding Planner. I am extremely happy with this Master Wedding Planner. Now that all is said and done, I encourage any future couples to grab this Planner now! It has a well though out design. Very easy to follow. It really kept me calm and sane through the entire planning process. Our Wedding was spectacular!"

Caroline Sims–Texas
Scroll down and see all the EXTRAS you will receive
(Just $37 out of the $10,000 plus you are probably going to spend on your beautiful Wedding and Reception)



    Hi Everybody, My name is Jack Barrett and I have been a successful Wedding DJ for 24 years. I could only wish this wonderful tool was available when I started out my DJ career It answers so many questions…
 As seen above, the Author of The Master Wedding Planning Guide is Julie White…I'm merely a conduit to get this into everyone's hands from
Brides and Grooms to
Banquet Managers to DJs to Photographers and yes
to Parents of the Bride and Groom.

DID you know that there are over 1,000 wedding sites?
Why hop from wedding website to wedding website searching for answers?
This wonderful publication will answer most if not all your personal questions regarding your wedding. RIGHT IN YOUR HANDS…Over 250 questions answered!
Consider this: Can you even THINK of 250 questions? No? Then isn't it quite possible that this Wedding Planner will actually answer questions you probably NEVER thought to ask?
Absolutely!

Please take a few moments and listen to what Julie has in store for you:
Consider just 29 out  250 questions

With Every Order… You'll also get the following 5 Bonuses Completely FREE
Super Bonus #1

– "Bridal Showers to Remember":
Another great gift for the maid of honor. The bridal shower is a HUGE event for the bride and this special report will give the maid of honor the inside information on how to make it truly memorable.
Super Bonus #2

– "The Bachelorette Party":
Want the maid of honor to throw you the best bachelorette party ever? Well, she will, once she discovers the scores of ideas, themes, gifts, food, drinks, etc in this special report.
Super Bonus #3

– "Wedding Music with Distinction":
Have you started thinking about what music you should be playing at the ceremony or the reception? This special article gives you 100's of traditional and contemporary songs that you can use to light up your wedding day.
Super Bonus #4

– "Stressbusters":
Use the techniques in this special report to calm the wedding day nerves, keep a lid on any potentially stressful situations and maintain the peace between yourself and your loved ones.
Super Bonus #5

– Special Surprise Bonus!
ALSO, does the wedding party need assistance with any wedding reception or rehearsal dinner  speeches? 



 Did you know that some personal Wedding Planners have read this 1book for $37 and then charge the Bride $1500 because of what she learned in this marvelous Downloadable publication?
Do you have questions on etiquette, protocol, Family situations
Do you realize that this book can make YOU a neighborhood wedding Planner?
 Imagine being able to help out your relatives or close neighbors with their wedding –Saving them Hundreds of dollars!–That's YOUR wedding gift to them.
Just a sample of What YOU Will Receive for just a $37 investment when you visit Julie's Website

Money Saving Tips for EVERY PART of your Wedding: So that you can have a superb wedding without having to worry about paying it off for years to come. Slash your wedding costs by 40% or more.

The KEY QUESTIONS you MUST ask the potential photographer… videographer… floral arranger… caterer… venue provider… DJ or band… celebrant/minister… and everyone else associated with the wedding… in easy-to-use checklists.

A FULL WEDDING TIMELINE… Find out what you should do after the proposal… six months before the wedding… one month before the wedding… the week before.

AWESOME budgeting tables. You'll never have to face the horror of coming back from your honeymoon to face a mountain of unpaid wedding bills. Eliminate any nasty surprises and keep track of your budget and bills with our handy 6 page "Wedding Budget" worksheet.

A Massive VIDEO and PHOTO CHECKLIST: So that you can make 100% sure that you have every photograph and video footage covered. After all you only get one chance to get it right!

Find out EXACTLY what each member of the bridal party's role and responsibilities are… the maid/matron of honor… the bridesmaids… the bestman… the groomsmen… even the bride and groom!

The RECOMMENDED ORDER OF EVENTS for the reception… and the wedding ceremony. Of course, you can do it your own way but it is always good to have something to work from that you know will work well!

The FULL Wedding Etiquette For Each Stage of the Wedding: Discover every detail that you need to know to make the day a huge success, not only for yourselves, but for all of your family and friends.
Lots of Wedding Planning Tables and Charts: So that you can save time by quickly and easily seeing where the guest list, gift list, seating arrangement, wedding budget and more is at.
A Full

136-page

D

ownloadable Book 

So that you can save time by having this wedding planning package on your computer within 3 minutes!
Instant Access: Because this package is downloadable you get instant access to all of the time-saving tables and charts, money saving tips and techniques and much more straight away!
A Great Bonus Package: Get a whole lot of FREE stuff with your order, just check out the very bottom of this web page!
100% Guarantee: We personally offer a full refund, so if the package doesn't match up to your expectations then just email me for a full refund anytime within 60 days.
ALSO, does the wedding party need assistance with any wedding reception or rehearsal dinner  speeches? 
 Did you know that some personal Wedding Planners have read this book for $37 and then charge the Bride $1200 because of what she learned in this marvelous Downloadable publication?
 

Imagine for

$37.00 you can make all the right decisions regarding your wedding and have no regrets throughout the entire planning process.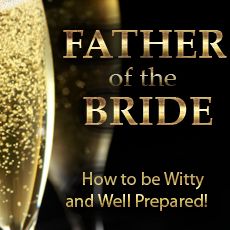 Please email me with any questions– Jackb@themusicdoctor.com